夜の東京
This is a corner where we introduce you the inner and unknown parts of Tokyo. Let's go to the sea on a hot summer night! Tonight, we will take you cruising at Tokyo Bay in yukata!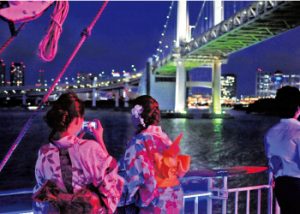 Sea, yukata, and night view- now this is the Japanese summer tradition!
This year, let's go on a night cruise!


The moment we got off Takeshiba Station, we saw many people dressed in yukata. It felt like we were at a summer festival. Yes, this is the arrival and departure port for the cruise. Starting here, the cruise took us around Tokyo Bay from the Rainbow Bridge to Odaiba and Haneda Airport. This summer-only event is definitely well-received among young adults. As the sky turned dark, the cruise took off from Takeshiba Terminal and along with that, we heard voices shouting 'kanpai' (Cheers!) echoed here and there. As a start, dancers dressed in yukata danced along to an up-tempo song to hype up the crowd. After having fun and dancing for a while, we cooled down at the deck with a glass of beer in one hand while being greeted with countless bright lights from Ooifuto. The cool night breeze together with the beautiful night view definitely made us forget about the blazing heat as hot as a summer afternoon. So, why don't you dress up in a yukata and enjoy a drink on the cruise tonight?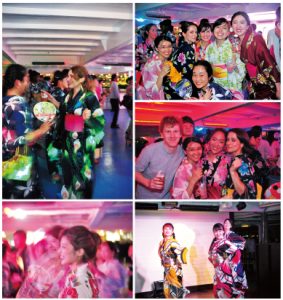 Tokyo Bay Night Cruise 2018
You can book online!
Date of event this year: 29th June- 24th September, Time: Everyday, 7.15 pm- 9.00 pm
近くの一杯
This time, we visit 'Kinkatsu' in Yotsuya San-chome. We heard they serve spicy tantanmen noodles, so we are here to check it out. This is the first store featured in this column that serves soupless tantanmen. One of its main menus is spicy soupless tantanmen made with a generous amount of rare, expensive golden sesame seeds. The combination of the richness of sesame seeds with red pepper and Japanese pepper (sansho) creates the perfect spiciness. Once you start dipping in, you definitely can't stop. So, make sure to give this a try!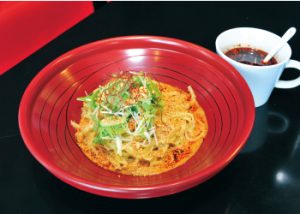 Soupless tantanmen noodle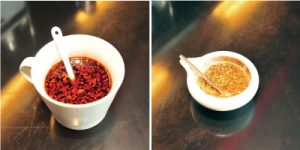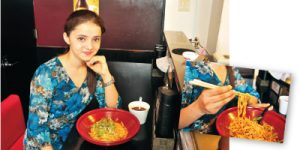 I often eat spicy ramen because I love them and as a Nepali who adores spicy food, the tantanmen noodles here has the perfect spiciness for me! In Nepal, we have a dish called chowmein and this is very similar to that. So, I think this dish will probably receive plenty of love in Nepal too!